In top 100 non selective state schools for academic progress

Brentford School for Girls are delighted to have received the following letter from the department for education. The letter congratulates them on being in the top 100 non selective schools in England for the academic progress which students make. The letter comes following another successful Ofsted Inspection earlier on this month.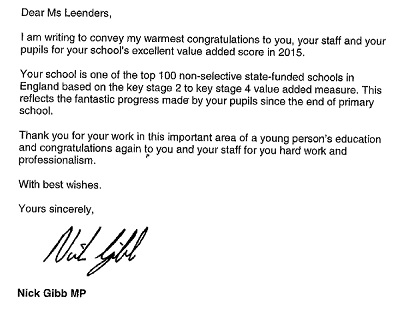 Headteacher, Marais Leenders says 'I am incredibly pleased that once again the school has been commended for its fantastic examination results. The students and staff work so hard at Brentford to ensure that every student achieves their full potential, achieving not just academically but also developing the wider skills which are so critical for future adult success'.
Brentford School for Girls has gone from strength to strength over the last 5 years becoming an increasingly popular choice for parents. This letter once again shows the strength and quality of what is an excellent school.
March 8, 2016