Most students in favour of voting at 16

Ruth Cadbury,newly elected MP for Brentford and Isleworth and Shadow Home Secretary Yvette Cooper visited Brentford School for Girls last Wednesday. Ms Cooper and Ms Cadbury were also joined by Seema Malhotra, re-elected MP for Feltham and Heston.
Seema is also Shadow Home Office Minister for Preventing Violence Against Women and Girls. In her opening remarks Ms Malhotra talked about the 'Girls Safety Summits' she has been running across the country, and asked the students their opinion and experiences on gender based violence.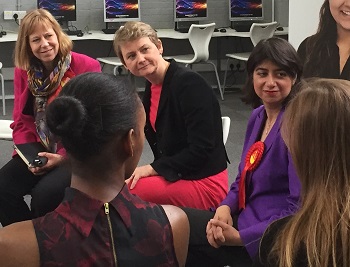 A range of opinions were expressed during the question and answer session – with the students debating vigorously. One student questioned if people would be informed enough at 16 to vote, whilst another inquired about the best way to reduce inequality. Several of the students were of voting age, and said they would be voting for the first time next week.
Ms Cadbury said "It was a please to return to Brentford School for Girls, and I was delighted Yvette could join me. I have visited several schools throughout this campaign, and I have been struck by the level of knowledge and engagement the students have with the issues that matter to them. The idea that young people don't care is simply not true."
Ms Cooper added "It was great to join Ruth in Brentford today, and I want to thank the school for having us. We had a very good discussion, and the students were clearly passionate and engaged. We talked about tuition fees, apprenticeships, the NHS, housing and votes at 16. This election is about the kind of Government they want as they head towards university, an apprenticeship and into the workplace. That's why it's so important to talk to young people about Labour's better plan to ensure our young people have the best opportunity possible."
Marais Leenders, Head Teacher at Brentford School for Girls, said "Having the Rt Hon Yvette Cooper MP visit the school and talk to our 6th form students about the importance of young people having a voice in politics was a fantastic experience for our students. The students listened with interest and challenged some of the Labour Party's views around poverty and the distribution of wealth, university fees and the view that young people should be able to vote at 16 – interestingly most of the students were in favour of this idea."
May 8, 2015