Media Studies department at Brentford School for Girls showcases its work
Last week, Brentford celebrated its Media Studies students at an Oscars-style event. Brentford School for Girls showcased the highly professional work of Media Studies students from Year 10 through to Year 13.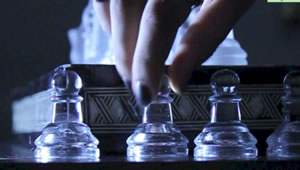 Still from the film Checkmate
The event concluded with awards given by Tim Leandro, a TV and film director with credits including Eastenders, Casualty and Ultimate Force.
Prize winners included Melina Namdar who won the Department Special Award for her outstanding contribution to Media Studies over a number of years.

Notable amongst those awarded were the Year 10 students Michelle Yang, Manpreet Matharu, Sophia Louis and Layla El-Sekaifi whose horror trailer "Checkmate" was deemed exceptional for such young students.

A spokesperson for the school said, "All in all this was a highly enjoyable evening and the best possible advert for the Brentford School for Girls as a creative hub for aspiring film makers."

May 1, 2015