"We know the power reading can have"

Staff and Students at Brentford School for Girls today celebrated World Book Day, with many staff and students dressing up as their favourite literary characters including Alice from Alice in Wonderland, Cruella De Ville and Harry Potter.
Year 7 and 8 students were treated to a World Book Day Quiz in the school library with House points up for grabs for winning contestants.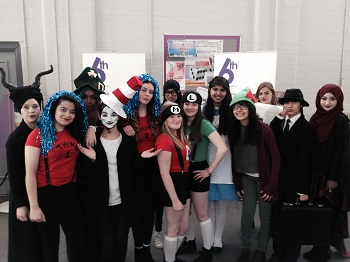 At lunchtime, members of the teaching staff joined in by reading extracts from a favourite novel or poem to the students. Readings included 'Night Mail' by WH Auden, Havisham by Carol Ann Duffy, 'The Owl and the Pussycat' by Edward Lear and an extract from Robert Louis Stevenson's 'Treasure Island'.
The purpose of the World Book Day celebrations was to celebrate the sheer fun that may be had from reading as well as to emphasise the overwhelming importance of reading and literacy in the curriculum.
Louisa Harris, Deputy Headteacher, said, "There has been a real buzz around books and reading at Brentford School for Girls today. As a whole school community, we have loved celebrating World Book Day; it's been a very successful way to publicise and engage all of our girls in reading. We know the power reading can have in developing children's imaginations and in improving their exam results. Today has been a great reminder that we should all work consistently to keep reading and the joy of reading at the heart of our school culture."
March 6, 2015