Brentford School for Girls receive donation towards Summer Fayre

Brentford School for Girls presented with a cheques from Tim Brown the Manager of the new Sainsbury's local store
Brentford School for Girls were delighted to be presented with a cheque for £250 by Tim Brown, on Monday 25th March at the opening of the new Sainsbury Local store.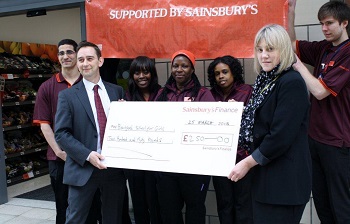 Brentford School for Girls are presented with a cheque from Tim Brown (left)
The new store is based on the site of the Great West Quarter.
Liz Gers, Community Co-ordinator for the school (pictured right) said "It is fantastic to working in partnership with Tim and the Sainsbury's group.
The money will go to towards funding our Summer Fayre which is on Saturday June 29th.
Additionally Tim has also given the school an Active Sports pack which our PE department will be putting to very good use.
I know that the partnership between Brentford School for Girls, Sainsbury's and Tim and his team will go to strength to strength over the coming year".
To visit the new store the address is as follows: Building 3, Great West Quarter, Brentford TW8 9BS. Thank you to Anna Loveland, display Technician for the photography.
If you would like any more information on Brentford School for Girls' Summer Fayre please contact Liz Gers Community Co-cordinator on lgers@brentford.hounslow.sch.uk
March 26, 2013