See Brentford School for Girls' Production at the Lyric Hammersmith

Well the amazing students of BSfG have done it again! The Mobile Phone Show could not have been more different to last year's offering and, to be honest, I am not sure the students were too keen to
begin with. They stuck with it though and boy did they do well!
We always aim to keep our students on their toes. We try to provide challenge and to extend their skills in all of their activities at the school. So, when we presented them with this entirely different and perhaps more perplexing play we were not surprised when they accepted our challenge and exceeded all of our expectations.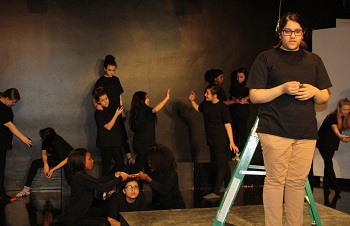 The show was both funny and moving. Students from Y8 – 12 demonstrated a level of maturity and a degree of skill which showed once again that they are truly talented and exceptional girls. They have worked tirelessly during weekends and after school to make this play a fantastic demonstration of their flexibility, resilience, determination and inventiveness.
The rehearsals have not been without their difficulties though. Trying to gain and keep the attention of thirty girls with mobile phones in their hands is not a task for the faint hearted but all of the hard work paid off.
We in the Drama department and indeed the whole school are immensely proud of them all. We look forward to performing on the main stage at The Lyric Hammersmith on 17th April. So, if you have not managed to see it yet, we look forward to seeing you there.
Tom from St Paul's Primary school commented "I thought the mobile phone show was amazing, it was funny! I especially liked 'I don't know that I've been phoned, I've got missed calls on my phone' – that made me laugh! I was singing it for 2 days and more".
Brentford School for Girls
March 19, 2013