"Waste Land" at Watermans this week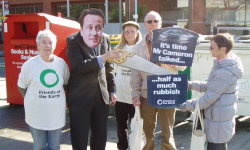 Hounslow and Brentford Friends of the Earth, together with Brentford Recycling Action Group (BRAG), recently staged a stunt with a larger than life David Cameron. The Government is deciding what to do about the country's rubbish, and campaigners want a goal to halve the rubbish that people have to put into their black bin bags.
While Hounslow Council runs the local rubbish and recycling collections, they need a boost from Westminster to be able to improve services and send
less rubbish to be buried and burnt. Friends of the Earth groups around the country have been taking part in a day of action calling for a nationwide goal halving rubbish and boosting recycling and re-use.
Maggie Thorburn, Co-ordinator of Hounslow and Brentford Friends of the Earth, said: "People in Hounslow can already recycle a wide variety of materials but we are all frustrated by having to bin things like unnecessary packaging and the stuff the council doesn't recycle.
"Friends of the Earth's campaigning brought recycling to your doorstep – now we want the Government to halve the amount of rubbish that has to go into our black bin bags by 2020.
"More recycling doesn't mean more hassle or sorting – the best collection services are the simplest for householders and the most cost-effective for our cash-strapped council."
Hounslow Council currently recycles just over 34% of rubbish and has established a Reuse Centre at Space Waye where schools and charities can obtain materials such as timber, paint and furniture. Friends of the Earth wants Local Authorities to be able to recycle and re-use more of our household waste and for more products to be designed to be easy to reuse and recycle.
This week, BRAG is setting up a recycling information stall at Watermans Arts Centre, 40 High St Brentford, to coincide with the showings of "Waste Land". The film shows the glaring consequences of excess through the journey of one artist as he discovers the garbage pickers that live on the world's largest rubbish tip in Brazil, and 'paints' their portraits in rubbish.
April 5, 2011