Christmas appeal for donations and support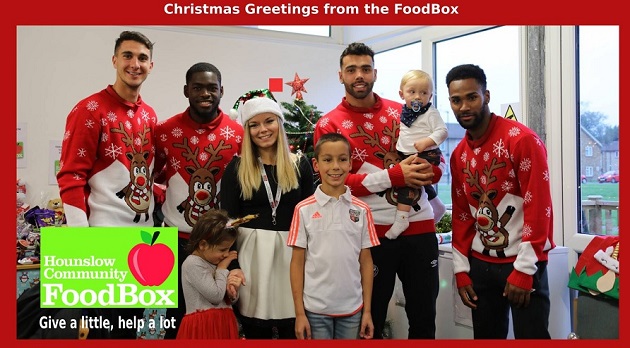 Donations from customers of Morrisons Brentford
Volunteers from FoodBox Hounslow were on the turnstiles Wednesday night collecting in the build-up to Christmas. Thanks to generous donations by visiting supporters Hounslow FoodBox collected an impressive £389 as well as a bag of food.
FoodBox Hounslow provides emergency food to those who are in need and live in the London Borough of Hounslow and can also help to make referrals to other organisations who can give further support and advice.
To help with that work, FoodBox are asking supporters to donate money as they come through the turnstiles for our game against Cardiff City on Wednesday night.
Last month, four members of the First Team squad, David Raya, Rico Henry, Dru Yearwood and Luca Racic, visited the Hounslow Community FoodBox in Brentford. As part of the visit they were able to support and witness the work undertaken by a team of volunteers in providing food and other provisions for the needy in the Borough.
Christmas can be a difficult time of the year for many families, stressed that their children may be missing out and having to make difficult decisions about how to make their finances stretch for gifts and nice food for the table. So as well as food donations Foodbox is happy to receive as many small toys and treats for school children as possible.
The FoodBox will be providing Christmas hampers for families, selected by our Referral Partners, who have relied on the FoodBox this year. These hampers will have some festive treats for young and old and gifts for children and are on top of the regular provision of food parcels for those in need.
Regular food items required include:
Tinned & fresh potatoes or mash

Tinned meat - casseroles, corned beef, ham

Tinned Fish - tuna, salmon, sardines

Tinned vegetables - sweet corn, peas, carrots, beans

Tinned and fresh fruit (such as satsumas)

Pasta sauces

Tomato sauce

Tea

Coffee

Sugar

Cereals
Jam/preserves

Small cooking oil

Tinned soup

Baked beans

Rice

Flour

Tinned custard

Rice Pudding

Squash

Long life milk

Baby food & milk
Christmas treats such as mince pies, Christmas puddings, biscuits, and chocolates are very welcome at this time of year.
Pet food and non-food items such as toiletries, cleaning products and nappies are also very welcome.
Donations can be brought to Hounslow Community FoodBox, Brickfield Community Centre, Brickfield Close, Brentford TW8 8JN during opening hours (Tuesday to Friday 10am to 1pm; Saturday 10am to 12)
December 12, 2019