Farmers Market hailed a success
"Just what the village of Brentford needs"
The first Brentford Farmers Market has been hailed as a success by organisers and the many Brentford residents who visited the market on Saturday 9th.
One of the stalls, selling desserts, had sold out of all their stock by 11am, only two hours after the market had opened. Organisers estimate that around 1000 people visited the market, held in the grounds of the Brentford Health Centre.
Both residents and stallholders were unanimous in their view that the event was a success. The market was "just what the village of Brentford needs", one contented customer told BrentfordTW8.com. Another said that "it brings the community feel back into Brentford". Traders joined in the praise, with one saying "I want to be back next week. The reaction of people here is unbelievable".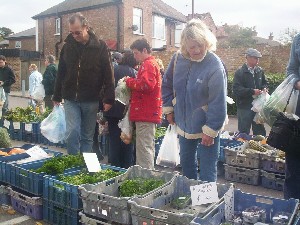 There was some concern about a lack of stalls. Organiser Seema Malhotra said "On Thursday afternoon, we were told by our organic bread supplier that they would not be able to attend. We've contacted bakers from Dover to Dorset but none were able to fill in for them at short notice. Another couple of stallholders dropped out for other reasons at the last minute. Despite this, I'm thrilled that the market was such a success. There's always been a strong community feeling in Brentford and days like this emphasise how important it is to maintain and strengthen that bond".
Organisers were keen to acknowledge the help they received in putting on the event. "The PCT have been very generous in allowing us to use their space. Kath Healy and her team at the excellent Chiswick market were really helpful and local councillors and MP Ann Keen got behind the scheme at an early stage to help make sure that there were no unforeseen problems. Thanks are also due to all the stallholders who got behind us - and not forgetting Grand Union brewery, whose ale was very popular!"
Will there be another Farmers Market in Brentford? "Our first ambition was to put on one event to test the reaction" Ms Malhotra told us. "We now know that the interest is there and we'll be looking into the next steps in the days to come".
Should there be another market? Should it be weekly, monthly, or was a one-off enough? Please let us know on our forum and we'll pass your comments onto the organisers.
10 Oct 2004
Become a member of BrentfordTW8.com - it's free
Comment on this story on the