Great West Quarter on Ealing Road used
The scene on site at Great West Quarter this week was dramatically different to normal, as the latest phase of Barratt West London's landmark development in Brentford was used as a filming location for Richard E. Grant's latest project.

Directed by Dominic Burns, How to stop being a loser is described as a "deliciously warm and silly London comedy in the tradition of Four Weddings & A Funeral and Bridget Jones". Due for release in Autumn 2011, it has been tipped as one to look out for. As well as the Withnail & I legend, the film stars Gemma Atkinson and fellow Brit actors Simon Phillips, Martin Compston and Craig Conway.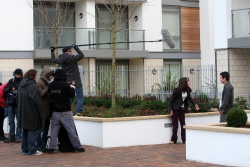 Members of the case and crew of How to Stop Being a Loser filming outside Brentford Park House at Great West Quarter by Barratt West London.

Scenes from the quirky comedy were filmed in and around Brentford Park House, the latest phase of Great West Quarter – one of the largest regeneration projects in West London. In the film, the impressive development is home to characters Patch and Tom.

Alastair Baird, Regional Managing Director of Barratt London, commented: "Great West Quarter is a superb development and we were delighted to be able to offer it as a filming location, which underlines the high-quality and contemporary living environment we are creating for this new community on the Golden Mile."

Producer, Patricia Rybarczyk, said: "In view of the recession and budgets being reigned in, projects like this rely on the support of organisations such as Barratt. Great West Quarter is an amazing development in a great location and the show apartment is in tune with the character's modern and trendy style".

December 22, 2010