Boston Manor Park 12 - 5.30pm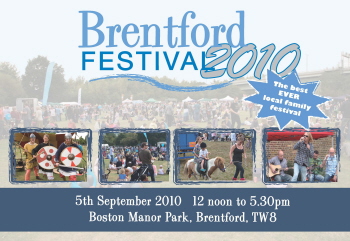 This large and established local community event takes place in Boston Manor Park, Brentford on the first Sunday of September from 12 noon to 5.30pm on the 5th September. Welcoming over 10,000 visitors, the Brentford Festival is the perfect way to meet up with friends & family at the end of the summer.
Free entry to all!

• All things animal in the meadow to include the Urban Farm, pony rides and THE DOG SHOW – enter your best friend… your dog that is!
• Robbie the Land Train.
• Traditional fun fair, Inflatables, Climbing Wall and NEW this year - A SIMULATOR!
• Arts and crafts, jewellery, clothing, plant stalls.
• Children can make their own lunchbox in the walled garden whilst parents chill out to the music with a glass of PIMMS or a cup of tea.
• Holistic therapies and relaxing foot massage.
• The Army will be providing free activities including an ASSAULT COURSE.
• Climb in the fire engine, see FIRE BRIGADE demonstrations and get FREE safety advice.
• Games for children and adults alike.
• Take advice from one of the many support groups.
• Relax in the Pavilion Café with a cup of tea and delicious home made cakes.
• New this year is the CHAMPAGNE AND OYSTER BAR to compliment the ever popular traditional real ale bar.
• Chill out and listen to live music from two stages and NEW this year Radio HayesFM will be broadcasting live from the event.
• Eat at one of the many eateries.
• KAYAK on the canal with the Brentford Boating Arch.
• The VIKINGS will have landed!
• FESTIVAL RAFFLE with excellent prizes.
• ... and much much more!
On the Main Stage (Main Field) in 2010, the following musicians are performing (timings are approximate):

The Main Stage is being MC'd by Hayes FM

12:55 The Iconics (original reggae/ska + covers)
16:15 The Electronic Cavemen (electronic/dance covers)
On the Acoustic Stage (Walled Garden) in 2010, the following musicians are performing (timings are approximate):


13:35 Meet the Zuckers (pop/soul/rock covers)
14:15 Jain Grant (original soft rock/contemporary + covers)
For further details see Brentford Festival's own site.
And if you're going to Griffin Park first, there's plenty time to enjoy the festival as well!
September 2, 2010