Preparations are on their way, even though the event is months away (you have marked it in your diary, haven't you?)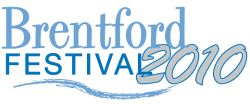 Sunny days are on their way and the Brentford Festival has opened the historic gates of Boston Manor Park to their first set of stallholders that will eventually fill the beautiful park grounds, as they have for the wonderful West London local event since 2005.

The Festival last year welcomed 10,000 visitors. This year on September 5th at midday, they'll be treated to live music from two stages, row upon row of stallholders selling hand crafted children's toys to delicate jewellery, cards, gifts, toys, children's clothing, arts & crafts, plants and much, much more.

Last year stallholders selling their wares were joined by a swathe of food stalls covering a variety of tastes from gastro pubs to Indonesian delicacies, Spanish paella, German sausage through to cupcakes and ice cream and of course being in West London, Fullers and in true English Fayre style, tea and cakes and refreshing Pimms from within the walled garden.

We are delighted to welcome back S.I.T Dog training, bringing the very popular Dog Show, which this year will move to the meadow area. More details on this and the entry categories over the coming weeks.

We have plenty of room to welcome more stallholders, so please get in touch.

Linda Massey, Brentford Festival organiser adds "each year we rise to the challenge of improving on the previous year. We are always excited by something a little different and feel sure that we will not be disappointed this year. Check out the website www.brentfordfestival.org.uk for latest people who have signed up."
Amongst our first stallholders to be signed up, we have both old friends to the Festival as well as welcoming exciting new businesses.

203 Brentford ACF
Breath Easy
Brentford Toy Library
Cubiko Games
Eureka Designs
Forever Living Products
Gemma Jewellery
Glads Club
Independent Activities Project
Kumari Glass
Little Coppice
Lorna Kyle
SIT DOG TRAINING
Your Gems
British cactus & succulent society
Cusmus
Hot Pink Frog jewellery
Petite Pensee Gifts
Motion Simulator
Teacake Design

Applications for stallholders, or anybody wishing to do a display such as dancing, go to our website www.brentfordfestival.org.uk/BFApplications.htm.
April 21, 2010