20 years result in "many great friendships and wonderful memories"
Landlord & Landlady Gordon & Liz Rough are leaving after 20 years in charge of The Express Tavern. Their last day is Sunday 17th August
Gordon penned these memories:
"We arrived late November 1994 and the pub re-opened after an extensive re-furbishment on 8th December, and on the opening night our son,Gordon John was born upstairs in our flat.
"We managed the pub on behalf of the Aldington family, who have been owners of the property since 1792 and we became the leaseholders in August 2000. Now 20 years later we are retiring back to Scotland to spend time with our grand children.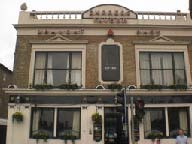 "Many changes have been seen in our time here,and among various musical evenings we have hosted are folk nights, opera (with enormous support from Councillor Paul Lynch during his tenure as Mayor), a Welsh musical trio of 2 Violins and a Tuba called SHEEP---don't ask! ! Morris Dancers, London Welsh Rugby Club Choir, String Ensemble, Scottish Bagpipes, Blues Party Band "Prick Up Your Ears",and even a ceilidh band for our daughter's wedding. A stalwart through all this was Neal Rollason, our resident violinist extraordinaire.
"We have held St George's Day, and St David's Day dinner, but the evening we are enormously proud of is our Annual Burns Night ,in which we even managed to incorporate a bit of McGonagall.
"Our time here has been blessed with many great friendships and wonderful memories.This is a marvelous area of West London and should be zealously guarded to preserve its uniqueness.
"We wish the new tenants well, and we will give a warm Scottish welcome to all visitors in Edinburgh. "
August 8, 2014