That's the name being given to the huge development on the Great West Road by Housebuilders Barratt Homes as they have announce the resulsts of their consultation into the potential uses of the former Beechams site on the Great West Road. They have also announced the next stage of public meetings to be held before a Planning Application is launched.
According to Barratt Homes, most respondants to the December survey and subsequent public meetings were in favour of bringing the site back into use with a mixture of residential and employment development and shops 'that locals can use'. Concerns were raised over car parking and traffic levelsand the increase in pressure on local services, including schools and hospitals.
A leaflet distributed by Barratt Homes refers to the 'North Brentford Quarter', giving an indication asto the way Barratt's will be marketing the huge development. A full planning application is expected in April, which will see a major consultation effort over a number of days. Before then more should be revealed at the meetings being held on the 5th and 6th of March, where draft plans will be available for inspection.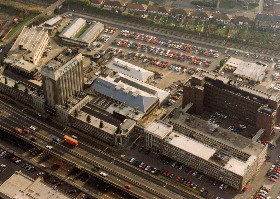 Golden Mile gets another name on the List
Barratt's buy former Beecham HQ
Anger at Kew Bridge Consultation Meeting