Congratulations to Julia and her team on a successful fundraiser for the Brentford Christmas lights
Large parties are difficult to arrange. There are a minutae of details that can get forgotten, from extra soap in the toilets to the goodie bags to take home. Nothing was missed out here.
Guests were greeted outside the Great Conservatory with a glass of fizz and canapes whilst they looked around to see who else was attending. Hold Tight's music gently played in the background. Starting at half six the sun was still warm permitting lots of bare shoulders and beautiful dresses.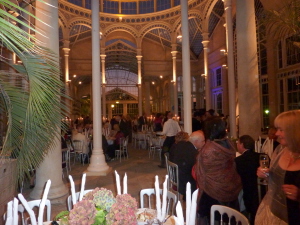 We were called into dinner and sat down to a stunning vision of candlelit dining. A light starter of salmon mousse on potato salad was followed by beautiful beef, dauphinoise potatoes and perfectly crunchy potatoes. The vegetarian option of 3 mushroom tart with pine nuts seemed to go down well too. A small chocolate pudding with raspberry jus was followed by coffee and a splendid cheese board.
| | |
| --- | --- |
| | |
| The Mayor, Councillor Paul Lynch, opened the raffle where numerous people won many many prizes. | There was an auction, led by Tom Keane of Chiswick Auctions of lots of occasionally weird but mostly wonderful objects which made a good sum of money for the Christmas Lights. |
Councillor Dakers, Chair of the High Street Steering Group gave a speech of thanks to all who contributed. Councillors Ruth Cadbury, Matt Harmer as well as Paul and Shirley Fisher. And then Hold Tight played and we danced the remainder of the evening away.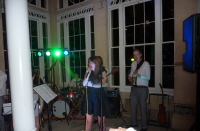 Many thanks must go to all involved, especially to Julia Quilliam, but to everyone who helped out in whatever capacity. Also thanks to all who gave their money towards the Brentford Christmas Lights, which will be turned on at the Watermans on 27th November at 5pm. Contributions are still being accepted. Please email editor@brentfordtw8.comwith any comments.
September 25, 2009