With behind the scenes tours, live music and job opportunities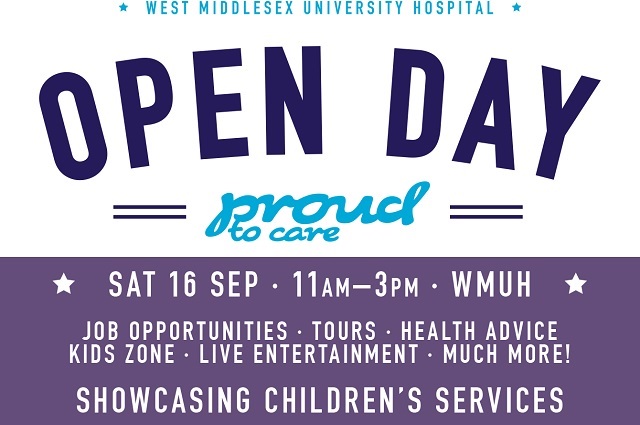 West Middlesex University Hospital Open Day
Saturday 16 September, 11am–3pm
West Middlesex University Hospital is gearing up to welcome visitors to its 5th annual Open Day. This year we will show you how we're putting our values into practice, while unveiling exciting new plans to redevelop our children's services.
This is set to be an Open Day we simply won't forget as our teams will shine a light on the groundbreaking work taking place and how proud they are to care for patients while in hospital. Our hospital charity, CW+, will be launching the Sun and Stars £100,000 Fundraising Appeal to transform our children's wards into a bright, fun and welcoming environment for our youngest patients and their families. Artist Maddy Sargent will also be running art workshops with children and families and the charity will be sharing some of their initial ideas for transforming and improving the wards.
If you are thinking about working for the NHS, are concerned about your health, want to see first-hand how we care for thousands of patients every year, or just want to entertain the kids, then this is a must-do event.
Last year, nearly 2,000 people came along and we're hoping that you'll join us for what always promises to be a great day out. Just turn up and have fun! Activities on offer include the chance to visit theatres in our behind-the-scenes tours, sign up to a research study, listen to live music from local acts and apply for jobs on the spot.
This year we will continue to actively recruit staff to clinical and non-clinical roles, as well as volunteers—so if you're keen to join one of the best performing and forward thinking Trusts in London then please come along on the day.
The West Mid Open Day will take place on Saturday 16 September—make sure you save the date!
Fantastic turnout at 11th annual C&W Open Day
On Saturday 20 May more than 2,000 people came to Chelsea and Westminster Hospital's Open Day—our annual event to help patients and members of the public find out more about how we are proud to care for the 600,000 patients we see each year at our hospital.
The event was a fantastic success:
15 nurses who were interviewed were given job offers on the day
100 people signed up to apply for future job opportunities at the Trust
donations on the day will support the redevelopment of our critical care services
August 29, 2017