Crystal balls and white artistry
HOUNSLOW WINTER CELEBRATIONS take place on Saturday 15 December when shoppers in Hounslow High Street can enjoy an afternoon of free performances by the celebrated circus act FLAME0Z and look forward to the festive season.
FLAMEOZ, who delighted Hounslow shoppers last year with their fire artistry, now present, CALVOS, an exquisite winter-themed walkabout act where performers contact juggle 'ice crystals' and stilt walk in shimmering snow white costumes with silvery faces.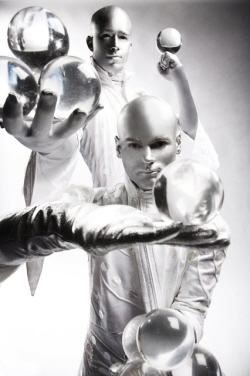 This elegant duo creates a live performance experience that is beautiful and magical.
CALVOS are the UK's top performers of 'contact juggling' - the manipulation of crystal balls that glide, float, dance and levitate surreally around the artists' hands, arms and bodies. Impossibly skillful, delightfully mesmeric and utterly astounding, this real-live magic must be seen to be believed.
FlameOz is an entertainment company formed in Australia now based in the UK which has entertained audiences across the globe. The FlameOz team are inspired artists who are continually training and developing cutting-edge acts, in the forefront of the ever-evolving world of modern circus.
The CALVOS walkabout performance will take place on the Pedestrian area of the High Street, as well as at the entrance of the Treaty Centre. There will be three thirty minute performances at: 12:30; 2.00pm and 3.30pm.
Watermans has been working with London Borough of Hounslow presenting a programme of outdoor events to animate the High Street and support the economic activities of the town centre. These winter celebrations will create a lively atmosphere in the High Street and offer shoppers a chance to take time out and enjoy an exquisite present just before Christmas.
December 6, 2012