A free event in Lampton Park for all the family on Saturday 25 September, 1 – 2.30pm
Carnival meets theatre when a giant Tiger appears in Lampton Park, Hounslow.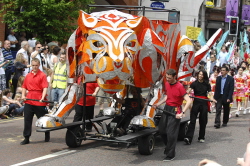 The Tiger and The Emperor is a spectacular site specific theatre performance created by the outdoor theatre specialists, Walk the Plank and the carnival arts organisation, Kinetika. This performance is based on a folk story of the greedy Emperor, who wants his taxes and people must pay.
With an original soundtrack and live music performed by the Bollywood Brass Band, the Bengal Tiger and a wise man, work a little magic and the Emperor is persuaded to change his ways.
Local dancers from Alluminae Dance Company and Gumley House Convent School create a spectacular finale accompaniment to the Emperor's pageant in an enjoyable afternoon of free family entertainment.
Look out for the Bollywood Brass Band, who will be playing in Hounslow High Street at Noon, as they invite you to join the colourful procession en route to Lampton Park.
Bring a Picnic but don't let the Tiger get a taste of your lunch and join us in Lampton Park for a theatrical family event not to be missed!
The Tiger and The Emperor is produced by Watermans and sponsored by Hounslow Borough Council. If you have any special access needs please contact Watermans on 020 8232 1026 or email: rachel@watermans.org.uk to discuss your requirements.
September 24, 2010