Insight into Thames Lock and Gauging Lock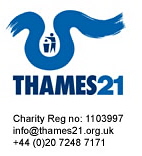 Discover Hounslow with Thames21

Time and date: Saturday 18 September, 2pm-3pm

Location: Meet outside Grounds cafe, 1 Unit brentford, off Brentford High
Street, TW8 8JS.

Circular walk led by Brian Smith (former Thames lock keeper) - a local who has stories of his experiences running the Thames lock and knowledge of the area's history.
With a focus on the Grand Union Canal in the Brentford area, this walk will give an insight into the workings of the Thames Lock and Gauging lock, while giving participants a chance to share their own local knowledge on how the area has been influenced by this manmade waterway.

Please book your place by contacting Carolyn by email; carolyn.harmer@thames21.org.uk or phone; 07584172209"
September 15, 2010