Dog show with additional entertainment and hot dogs from The Griffin

A fun dog show for all the family Sunday, September 18 2016, at St Pauls Recreation Ground, Brentford, TW8 where Every Dog has its Day!

Entrance fee is £3 for each class with exception to Class 8 which is free to the winners of all the other classes.

Rosettes for 1st - 6th places in each class, PLUS Rosettes for the Supreme and Reserve Champions.

Show Schedule
All times are approximate
12:00 Registration
1:15 – Class 1: Prettiest female, sponsored by Holiday Inn Brentford Lock
1:45 – Class 2: Handsomest male, sponsored by The Blond Organisation Ltd

2:15 – Lunch break/chow time

2:45 – Class 3: Dog most like its owner, sponsored by teapigs
3:00 – Class 4: Fancy dress, sponsored by BrentfordTW8.com
3:30 – Class 5: Best condition, sponsored by Young Veterinary Partnership
4.00 – Class 6 Child handler (under 14), sponsored by Brentford Chamber of Commerce
4.30 – Class 7 Adult handler (over 14 years), sponsored by Brentford Chamber of Commerce
4.45 – Class 8: Supreme champion, sponsored by Quilliams

If you would like to pre-register your pooch for a class then please email martincase8@gmail.com with your details – don't forget to bring along your entrance fee on the day.

And off the leash, take time to paws in the marquee!

'The Brentford Belles' local chanteuses will be crooning the canines and harmonising the hounds with a few renditions of doggie dedications to our faithful friends along with other favourite melodies from their extensive repertoire around 12:30-12.45

The St Faith's Players will be performing 'A Dog's Life' at 2:15pm, a short one act play which follows a day in the life of four dogs in a shelter when a human comes looking to adopt. Funny, touching and guaranteed to win the hearts of all!
Hot Diggety Dog - Chow Time!
Treats for the Two Legged will be provided by Gerhard, renowned chef and landlord of local hostelry The Griffin, who will be serving up the 'hottest dogs' east of the Big Apple from his sizzling grill. A cut above your standard dog and as Gerhard proudly likes to boast "our wurst is ze best" and "everyone's a wiener"!
"We're like to the dog that caught the bus". - well we have!
Not quite an "American Greyhound" but we're very privilege to have with us today a "Transport of Delight": a true London icon in the shape of a 1966 Red Routemaster courtesy of Brentford's own RedRoutemaster. Any more fares?

Thank you!
to the sponsors: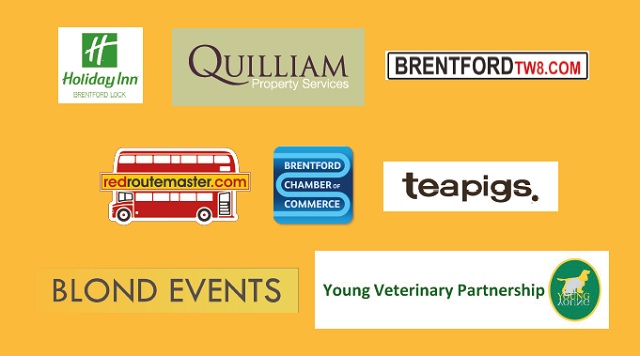 to Matt Roy of St Paul's and the Parish of Brentford for the use of their stage; Suzanne Burton of Sit Dog Training and Pet Services for organising and running the dog show; and to Gerhard and Claire Peleschka of The Griffin for providing the hottest dogs of the day.
Presented by The Friends of St Paul's Recreation Ground. For further information please contact martincase8@gmail.com
September 11, 2016