Majestic Brass on 17th November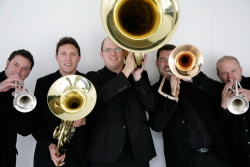 Majestic Brass plays on Wednesday 17th November at 1.15pm at St Paul's Open House Cafe
Majestic Brass
Since its formation at the Royal College of Music in 2001 Majestic Brass has established itself as one of the finest young brass ensembles in the UK. This dynamic group of musicians are comfortable in any musical environment with a diverse repertoire spanning all genres. Whether on the concert platform or in an educational workshop they never fail to wow audiences with their enthusiasm and unique style.
Majestic Brass give many lunch-time recitals and evening concerts throughout the UK & Europe for festivals and concert societies as well as performing music for many state and Royal ceremonies. In addition to this, Majestic Brass performed as the brass section for Maxïmo Park at the 2009 Reading & Leeds festivals in front of 150,000 people and also joined them for their UK tour finishing at the Royal Albert Hall.

All 5 members of Majestic Brass are keen educators and the group run educational masterclasses and workshops for all age groups. In 2006 Majestic Brass became the resident ensemble at Hinchley Wood Specialist Music School in Surrey, in 2007 Majestic Brass was invited back to the Royal College of Music as the Leverhulme Junior Fellowship Ensemble and in 2008 were appointed as ensemble in residence at the Purcell School of Music in Hertfordshire.
Lunchtime Concerts
St Paul's church hosts its regular monthly concerts on the 3rd Wednesdays of the month. Concerts are 1.15-2 pm in the St.Paul's Centre, Brentford. Join us there for lunch from 12 noon before the concert in our award winning Open House Café, or for tea afterwards. Suggested donation £3.00
St Paul's lunchtime concerts can provide a platform for established local musicians, or a valuable opportunity for students to gain experience in front of a live audience.
November 17th: Majestic Brass (Brass Ensemble)
December 15th: The Adie Sisters (Harp and Oboe)

January 19th (2011): River City Saxes
February 16th: Lucy Green (Soprano) with Felicity Hepper (Piano)
Open House Café
St. Paul's Church
St. Paul's Road
Brentford TW8 0PN
November 4, 2010