More Fun to Be Had at Brentford...
The Brentford High Street Steering Group are hosting an event to celebrate The Royal Wedding and St George's Day with a massive party on the High Street, in the Market Square, Brentford Lock Piazza, along the Canal by The Island and in the Butts Square.
The event will start at 12pm and will finish around 10pm which gives the chance for everyone to watch the Wedding on the television before coming down to the High Street to join in the party atmosphere.
We are hoping that everyone, children and grown-ups, will dress up so girls get your wedding dresses out! Weddings, princes and princesses, knights, dragons and anything really.
Attractions will include (and are listed below):
Live Music
Dancing from Brentford's very own Alliance Dance Unit
A variety of Stalls
Local Groups and Charities
Lots of Food and Drink
Canoeing
Archery
Tea Cup Ride
Anyone who would like more information or would like to take a stall please contact Julia on 020 8847 4737.
The Butts Square – Going Back in Time
We in Brentford are very proud of this enclave of late seventeenth and early-eighteenth century houses and is an oasis of calm. Come and visit the Butts for some good old fashioned fun.
Archery in the Butts
The Royal Richmond Archery Club was established almost 140 years ago. By 1882 the
membership stood at 180, with more ladies than gentlemen. Archery was a sport at which
women could excel. The Club ground and clubhouse has always been at the Old Deer Park in
Kew Road.

The current membership stands at 85. The club meets on Wednesday evenings for practice
nights and on Sundays, which are target days, when archers shoot under competition rules.
The Club holds beginners courses during June and July and has several 'come and try' days
throughout the summer.

The members use a variety of Bows: modern compound, recurve and traditional longbows. On
Royal Wedding Friday, in the Butts, members of the Club will talk about their bows and then
demonstrate their sport, shooting at traditional targets, thereafter inviting all who want to come
and have a try.

Thus bringing back to the Butts the traditional sport, which Royal Decree required to be
practised, in this spot, many centuries ago.
Afternoon Tea
Rest your feet and enjoy a traditional cream tea.
Tea Cup Ride – To be confirmed
Come and take a ride in a tea cup in the Butts for children and grown-ups
Body Zone at Brentford Lock and the Piazza
Canoeing with EDGE Progressive Paddling & Brentford FC Community Sports Trust –
sponsored by ISIS Waterside Regeneration
Come down to the canal at Brentford Lock and try out canoeing, canoe-polo or the newest sport in West London - stand up paddle-boarding.

Try Stand Up Paddleboarding (SUP) between 1-5pm
Looking for a new fun and exciting activity to take part in while reaping the benefits of increased fitness and health? SUP is the latest watersport to do just that.

You don't have to have any previous experience to enjoy SUP. It's easy to learn the basics. You don't even have to be a great swimmer as you will hardly get wet!

A great activity in a group, with the family or simply by yourself.

Contact the Active360 team and get booked on for free today!

www.active360.co.uk info@active360.co.uk
For canoeing bring a change of clothes and a towel (and shoes you don't mind getting wet) too.
Minimum age 8 years old, and parental permission for all under eighteens.
Music and Dancing in the Piazza
Music by Dream Catcher
Listen to Tony's sounds both for fun and to accompany the dancing.
Street Dancing with The Alliance Dance Unit
Zumba Zumba with Adventure Fitness
12.00 noon and 3.00pm
Come and join Mary, Fran and Gerda for a fun filled free sample of Boot Camp and Zumba at their two classes starting 12.00 noon and 3.00pm. All ages, shapes and sizes welcome! Losing weight as never been so much fun!
For more information call Mary on 07830 339711 or Fran on 07931 168518.
Music in The Market Square
Live Music with Helen Martin Productions
A lifetime of enthusiasm for live music led Helen to ditch the day job and set up her own company working with musicians and organising and promoting gigs in Brentford and beyond. Helen has a great team of volunteers made up of local people who LOVE live music, the Hel's Angels and one of them, tech wizard Kevin Swain will be part of her crew.
http://www.helenmartinproductions.com/ and http://kevinswain.co.uk/
Compering with Peter Gilham
Peter Gilham has been the PA announcer at Brentford FC for over 41 years and holds the record as the longest serving PA announcer in professional football in the UK. He is the "Voice of Brentford".
Order of Entertainment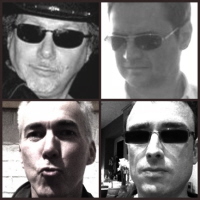 5.30 - 6.10 The Secret

Are actually two bands, The Secret & The Fish-faced enemies of the People who are having way too much fun playing together to do separate gigs! Playing a mix of our own hot choons and covers ranging from country to soul, indie to rock and folk to punk…
We are: Alan Dublon, Matt Wedgewood, Paul Nichols, Kevin Jones, Sandi Grant and Josh Albertis.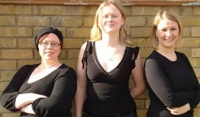 6.20 - 6.50 Rockapella
Rockappella are a west London based trio singing rock, opera, rock 'n' roll and indie.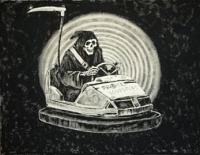 7.00 - 7.40 Brace Yourself
Brace Yourself are a West London based covers band who can sometimes be seen supported by the Grim Reaper, courtesy of the elusive Banksy. Playing regularly around Ealing and Brentford, come down to see them at Ashby's or The Globe amongst others for a taste of everything from Lady Gaga to The Killers, Wilson Pickett to The Kaiser Chiefs. www.facebook.com/braceyourselfealing
7.50 - 8.20 Phil Martin
Fiddle player and guitarist in many bands, session musician teacher, mentor and more - Phil has been working as a solo artist and composer over the past year - enjoy his wry take on the songs of his homeland!
http://www.philmartinmusic.com/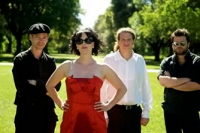 8.30 - 9.10 The Kate de Freitas Band
"We are a Jazz, Latin, Soul & Blues band currently playing regularly around London and the South East,playing venues such as the The Greyhorse, Kingston, the Globe, Brentford and The Half Moon,Putney and are regularly asked to provide music for parties too.Last year the band headlined at the Brentford Festival so we are very much looking forward to playing outside again at this special Royal Wedding event. We specialise in high octane latin and jazz favourites to get everyone up dancing and giving well known blues, soul and pop covers a twist bringing a fresh, rhythm & bluesy feel. Catch Kate every other Sunday at the Weir 2-4pm and Saturday latin nights there once a month. Find out more at www.katedefreitas.co.uk"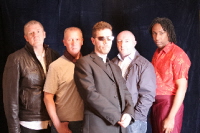 9.20 – 10.00 Very very latest Retroknights
Retroknights love to mix musical styles playing across the genres from blues to reggae, rock to dance, punk, to folk and jazz. A London based band that focuses on great songs you'll know, but not those well trodden songs you hear night after night in pubs across the UK. Putting their own slant to the music they play with something a bit different and making a sound that get's you dancing and singing. If you like a bit of musical spice, come and check them out. For set lists, bookings and further information contact Chris on 0771 576 1138.
Stalls
Face Painting and Temporary Tattoos from Ouch Tattoo
Brentford History with Gillian Clegg
Gillian Clegg is a writer and local historian. Gillian has a particular interest in Brentford since she was one of the amateur archaeologists who excavated Brentford High Street in the 1970s. Her book titles include Brentford Past (2002), Brentford and Chiswick Pubs (2005) and Brentford Through Time which has just been published.
Serendipity Street
Deepwell Barn
Buxhall Fen Street
Stowmarket, Suffolk IP14 3DQ
t: 0560 3422 930 m: 07961 355 461
Serendipity Street is an online vintage store that specialises in unusual Vintage & Retro homeware and accessories. They also have a beautiful range of Vintage china and accessories which is available to hire for your special event.
Cup Cakes
Where there's a party there has to be delicious cup cakes with beautiful whipped butter cream. This stall will be run with Serendipity Street displayed on their pretty Vintage china.
Brentford Football Club
Brentford Football Club flies the flag for the Town in Football League Division One and has recently won through to the Final of the Football League Trophy at Wembley Stadium in April. They have been at their current headquarters, Griffin Park, for 107 years.
Baby Clothes
Homemade by Vickie Southward baby items including frilly bum vests, frilly socks, character tutu sets, headbands, hair bobbles and clips.
Celestial Cakes by Sarah Rees
Celestial Cakes produce a range of organic, free range and locally sourced cakes; breads, jams, preserves and chutneys and has market stalls at West Ealing Farmers' Market and Borough Market and sometimes making a guest appearance at Ruislip Duckpond markets.
Sarah is fast developing a reputation for good quality wholesome baked goods at affordable prices. Why Celestial Cakes we asked? "Because all my produce tastes heavenly and are out of this world" replied Sarah adding "I am delighted to be part of the Royal Wedding celebrations in Brentford, and look forward to supporting this important local community event. Expect to see traditional favourites such as lemon drizzle cake; coffee cake and carrot cake alongside some interesting combos such as rhubarb and ginger cake; courgette brownies and gluten free options as well."
The Nail Salon
191 High Street
Brentford
020 8321 0405
Nails and massages
Vogue Flowers
Brentford's new young and fresh florist located in the High Street will be selling balloons and other delights........................
www.vogueflowersbrentford.co.uk
Usborne Books and Pheonix Cards
Christine will be selling books and cards.
Sharon's Craft and Gifts - TBC
Beautiful hand-crafted gemstone and silver jewellery, hand-painted lucky stones, crystals, fossils, angel and fairy gifts and a good quality lucky dip for children.
Teacake Designs
Teacake Designs sells silver costume jewellery, necklaces, pendants, charm beads & bracelets as well as a range of handmade children's name bracelets which we can make to order on the day of any event. Our price range is very reasonable, our children's range is £3 - £4 and our other jewellery ranges from £2 for a glass charm bead up to £15 for a silver sweetie style bracelet.
Tombola
Just for the children and everyone's a winner.
Little Coppice Nursery (2 pitches)
Plants of all kinds for sale including shrubs, climbers, perennials, annuals, herbs and vegetable seedlings.
Jewellery
Silver and children's jewellery
The British Soap Company
The British Soap Company is a group of business-enthusiastic Sixth Formers from St.Benedict's
Senior school, Ealing, working with the national 'Young Enterprise' scheme.
This enterprising group started their company at the beginning of this school year and ever
since we have gone from strength to strength following a variety of fund-raising ideas based
within the school; ranging from raffles, to selling magnetic beads that can connect into endless
amounts of shapes, creating a 'mini classroom craze' in the process. Once they had raised
enough funds they started looking into focusing the business into one, main area. Inspired
by companies such as 'Lush' and 'The Body Shop', but wanting to provide cheaper products
with a more home-made quality to them, they started by creating their brand: "The British Soap
Company".
They now sell a range of hand-made soaps and bath-bombs; from the fun and fruity, to the
sensual and relaxing. Alongside this, they are expanding their company by adding a selection
of stylish jewellery to their product range.
After much positive feedback from wherever they sell, be it at school or the local markets they
feel they are now at a stage where they have a soapy product for everyone.
Flowers by Carolyn Nash
Decorative floral displays for all special events, contemporary and traditional styles. Ranging from individual table place settings to large focal displays. All arrangements created to suit clients' individual needs.
Carolyn . 07944 779363
www.cvmnash@nashgardendesign.co.uk
Local Groups and Charities
Friends of the Earth
Hounslow & Brentford Friends of the Earth is a local group of the national environmental organisation. We aim to increase awareness of how best to use natural resources. Recent campaigns include: waste reduction, climate change, and sustainable livestock farming.
Brentford Recycling Group
Brentford Recycling Action Group (brag) is a local waste action group made up of Brentford residents. Set up in 1999 to promote activities and facilities that seek to improve the local environment of Brentford for the benefit of the community, we are facilitated and supported by Hounslow Council working to raise awareness and advance education in the reduction, reuse, repair and recycling of waste materials of all kinds.
We have regular monthly meetings, attend local events (carnivals, fetes etc) to encourage our purpose. Contact us at contact@bragonline.org.uk.
3rd Brentford Girl Guides – Tuck Shop
For over 75 years, 3rd Brentford Guides have served the community by providing a range of activities for young women between the ages of 10 and 15. These include; weekly meetings at St. Paul's Church, annual camping trips and international events such as trips to the World Guide centre in Switzerland. We are a volunteer organisation who relies on member subscriptions and fundraising. For more details on what we do, contact Katie or Sarah via
e-mail: katiewelland@yahoo.co.uk or tinysarahp@hotmail.com
Brentford Toy Library
Brentford Toy Library provides four play sessions per week entirely free of charge for childrenunder five. A registered charity, much of their work involves fundraising to ensure the sessions
remain free for all. As well as providing play sessions, Brentford Toy Library supports
volunteers, creates links between families and local services, organises community events and
provides free outings for children in the summer.
At the street party children will be able to participate in crown and flag making activities for free,
and also purchase some traditional, jolly toys and games including; windmills, bubbles, twirling
batons and policeman's helmets!
www.brentfordtoylibrary.org.uk
Cultivate London
Cultivate London has recently started growing a range of culinary herbs in Brentford as well as
providing jobs and training to young people not otherwise engaged in education or work. We
supply local shops and restaurants with fresh herbs. You can buy locally and seasonally grown
herbs from our stall. We'll also be providing guided tours of our growing site at Brentford Lock
West www.brentfordlockwest.com so you can see where your food is coming from.
www.cultivatelondon.org
Food and Drink
Champagne and Oyster Bar – The Weir
The Weir Bar & Dining Room is a very busy gastro pub set in beautiful surroundings by the
water's edge in Brentford. Open for seven years they have received several accolades for their
food and drink and featured in various Good Food Guides and life style magazines.
The food they serve is a cut above the average gastro pub food. They have an extensive
and varied menu, which includes a combination of both classic dishes and high-end modern
British cuisine, all made in house, from scratch. The menu changes regularly to reflect what
is available and in season and they take great care in sourcing their ingredients so that they
are able to offer their guests the best food possible. Excellent real ales, an extensive wine list,
great cocktails and a varied choice of Champagnes served by staff renowned for their great
service, smiles, and personality.
Reservations 020 8568 3600
www.theweirbar.co.uk
Indian and Bangladeshi Cuisine - Brentford Tandoori
Brentford Tandoori will be serving samosas and some delicious dishes including chicken and lamb biryani.
Traditional Cream Tea - Scouts
To be served in the Butts come and enjoy this great British tradition
Italian – Siracusa
Barbecue and Ice Cream – The River Cafe
Brentford's newest eatery The River Cafe, formerly Grounds, will be barbecuing as well as
serving ice cream in a variety of flavours.
Richardson Gourmet Burgers and Sausages
Hog Roast
The Royal Horseguardsman
Will be represented by hosts Noel McNaboe and Emma Rowlatt who have recently re-opened the one bar lounge pub. Whilst the pub has undergone a complete facelift they have retained as much of the character as possible and the pub still boasts the original parquet flooring, tiled walls and the two 'real' fires which were sparked back into life this winter.
They will be selling lager, beer, cider and taking bookings for summer bbq's which will take place in the newly introduced garden, currently undergoing a full refurbishment to include bespoke natural wooden furniture and a 3D TV!
Contact Noel McNaboe or Emma Rowlatt on 0208 568 2122.
The Royal Horseguardsman, 23 Ealing Road, Brentford TW8 0JU
Docking Station
Docking Station is a local social enterprise and will be offering tasty food and drink from their stall: fresh sandwiches from locally sourced ingredients, Brentford rolls and soup, as well as cakes and pastries.
Over the road at Docking Stations shop (108 High Street) drop by to play the latest video games at a 'Royal Wedding price' of £2.50 per hour, as well as go online. You can also listen to new music talent from the local area on Music Listening Stations.
We are a non-profit social enterprise and invest any surpluses in providing Apprenticeship opportunities to local people.
April 28, 2011