"Three Fathers and a Greek Wedding!" sing-a-long evening

Join in the family fun next month with the SFP members' musical sing-a-long at St Faith's Hall.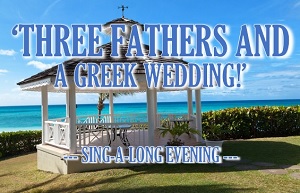 There'll be themed food, bar open and plenty of opportunities to see current members and meet new ones!

Saturday 24 September, 7:30pm

Call Anita on 07985 000677 to reserve your tickets.
Visit the website at www.st-faiths-players.org.uk and find the Players on Facebook
St. Faith's Church Hall
122 Windmill Road
Brentford, TW8 9NA
(just North of the A4)
E2 bus stops right outside.
August 30, 2016