Book Now for Death and Dinner
Are you a Holmes ? Miss Marple ? Jane Tennison? Hercule Poirot? Come and test your deductive powers! Don't miss out – book today!
March 1st at 7pm
Tickets £10 to include dinner
Ticket box office 07548 011 131.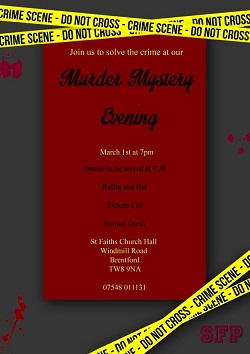 Visit the website at www.st-faith's-players.org.uk and find the Players on Facebook
St. Faith's Church Hall, 122 Windmill Road, Brentford, TW8 9NA just North of the A4. E2 bus stops right outside.


February 17, 2014