Beating Broadway's revival on date and ticket prices
Once again St Faith's Players are ahead of the game and this time they've beaten New York!
The production of `Harvey' - the Pulitzer prize winning play by Mary Chase - will open in St Faith's Hall on Thursday 17 May at 7.45pm for three performances - Broadway's revival starts previews on 18 May.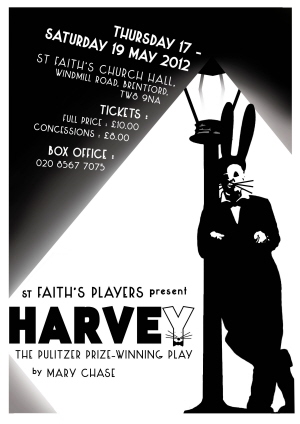 To be in at the beginning of the revivals get your tickets now for the SFP production on Thursday 17, Friday 18 and Saturday 19 May - you know you'll kick yourselves if you have to go to New York to see it and the cost of their tickets is guaranteed to exceed the £10.00 & £8.00 we charge!
Call the box office on 020 8567 7075, visit the website at www.st-faith's-players.org.uk and find the Players on Facebook
St. Faith's Hall, 122 Windmill Road, Brentford, TW8 9NA just North of the A4. E2 bus stops right outside


May 4, 2012