New Social Club from Brentford FC Community Sports Trust



Foundation, Age UK Hounslow and Sport Relief are delighted to announce the launch of Extra Time, our all-new social club for those aged 55 and over.
The social club is just part of a variety of programmes and initiatives that the Extra Time programme will deliver. Other activities include exercise and physical activity classes, social networking opportunities and participation events such as local walks and matchday visits to see the Bees at Griffin Park.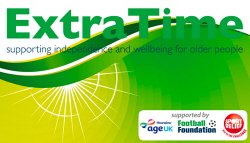 Extra Time was launched at The Hive, Griffin Park Stadium this Thursday, 3rd November 10am-12 noon and is free.
Activities: Social Club to include gossip, catch-up, networking, quizzes, games, keep fit,
Nintendo Wii, coffees and teas, local and topical talks
Age/Gender: Male & females aged 55 and over.
The Extra Time programme in the first week -in the weeks that follow members will be encouraged to provide ideas and information on activities that they would like to at the social club.
Please contact Chris Edwards, Social Inclusion Manager on 020 8326 7030 or email
cedwards@brentfordfccst.com
Alternatively, click here to download the information postcard (pdf).


For more details please visit the Trust's all-new website and follow the link in the menu bar to the Saturday and Holiday Courses page. Here you can download the booking form.
November 3, 2011