ABBA Tribute Band, and Crazy GP Haircut
St Paul's School Summer Fair Free Entry!
At St Paul's Road, Brentford, Saturday 4th July 12 - 3pm
Entertainment: ABBARATION (Abba tribute band), Magical Entertainer Tim Barnes, Afriklub Dance Group
Thorgills Estate Agents have very kindly sponsored Abbaration.
Refreshments: Ming Sing Chinese Food, BBQ, Hot Dogs, Ice Creams, Bar, Pimms
Morning Football Tournament 11am - 12 noon
Plant Stall, Craft Activities, Ping Pong Bingo, Make-up stall, Tombolas, Face Painting, Lucky Dip, Soak the teacher, Dig for Gold, Nearly New Sale and much, much more!
Dr Baxter, of Albany Practice, Boston Manor Road, and a parent at St Paul's is having a crazy haircut. You can vote for a purple cross, leopard mohican, purple snake or medics cross. Votes cost 50p and can take place at his surgery or at the school. There is a prize draw for a free cut and blow-dry at Jeffrey's Hairdressers with the winner announced at the fair. Dr Baxter's haircut will be provided free of charge by Jeffrey's and he will keep it for a whole week.
Anyone who signs up online with a valid registration for the newsletter between 4th July and 18th July will also generate 50p for the school so please encourage your neighbours and friends to sign up too.
This event is organised by the Parents and Friends Association of St Paul's School.
For more information please contact the school office on 020 8560 3297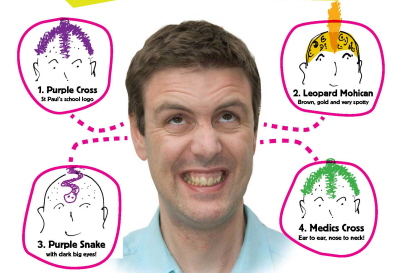 July 3, 2009