Get dirty and muddy cleaning up the Thames foreshore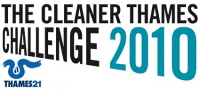 Every year, Thames21 runs a special campaign to motivate hundreds of willing volunteers over four days to help clean-up the River Thames foreshore at different locations in London. This August, Londoners are once again challenged to step outside, don some wellies and help improve the environment!
Please join Thames21 and clean up Brentford
on Thursday 12 August 12.00pm - 2.30pm
Meet: Watermans Arts Centre, 40 Brentford High Street, Brentford. TW8 0DS. MAP
Travel: nearest station is Brentford (overland) or Gunnersbury (District).
Join the Facebook event (not essential for participation).
Get some wellies on (provided by Thames 21) and get stuck in – it's really fun! You'll be helping remove plastic bags, shopping trolleys, tyres and everything else that sadly ends up in our rivers.
You will be provided with a full health and safety briefing before the event starts, and please don't bring your own wellies – use special ones provided with steel toes and underplates for your safety. Please wear old clothes, suitable for the weather.
For more information about the work Thames21 do, including other volunteering events taking place throughout the year, please see www.thames21.org.uk
July 21, 2010