David and Toby Holmes hold father and son exhibition at Isleworth's Redlees Studios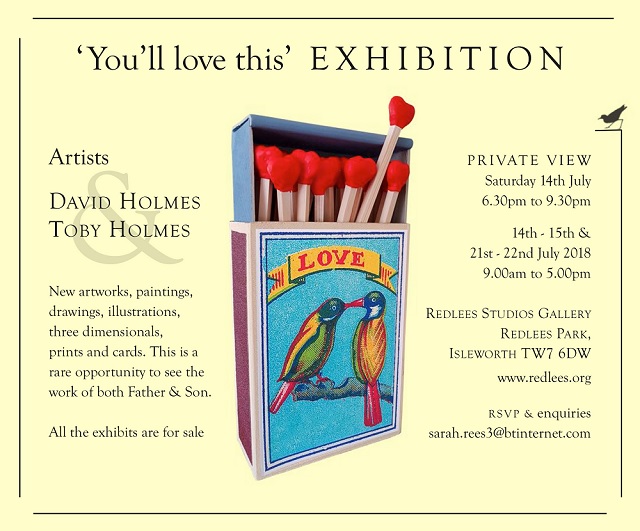 Born in Chelsea, Fredrick Cecil David Holmes is a working painter, illustrator and designer with a creative career spanning six decades.
After training at Ealing Technical Collage & School of Art and The Central School of Art, David worked for some of the best known advertising agencies of their time, including Colman, Prentis & Varley and Mather & Crowther. In 1977, he become a founding partner and creative director of Holmes Knight Ritchie.
David remained creative director of HKR as it evolved into TBWA HKR, leaving in 1992, and has since devoted his time to painting, illustration and design at his London studio.
During his advertising career, David was responsible for creating campaigns for a wide-range of famous names, but he is perhaps proudest of his fund-raising advertising for The Salvation Army that raised £1 million in 1967.
Since leaving advertising, David has illustrated stamps for the Royal Mail, (2010 Olympics, Christmas stamps 2016) and worked for clients including Macallan, British Airways, Bentley Motors, Marks & Spencer, The Times and The Singapore Tourist Board.
David's son Toby was born on 20th October 1962 in London. He studied for 3 years at Chelsea School of Art and has since worked and lived in London as a Graphic Designer running his own design studio Little Fish Design.He now works almost exclusively as an artist specialising in sculpture, painting and collage using found and reclaimed materials.
Private View: Saturday 14th July 6.30-9.30pm
General Viewing: 14-15th and 21-22nd July 9am to 5pm
Redlees Studios, Redlees Park, Worton Road, Isleworth, TW7 6DW
Entry and Parking is free.
www.redlees.org


: @RedleesStudio


: Redlees Artists Studios
July 5, 2018