A James Bond fundraising dinner and dance for React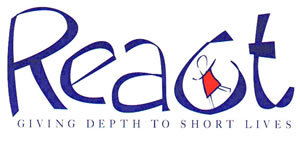 On Saturday 21st June 2014, the Baron & Baroness van Dedem will be hosting 'A Licence to Thrill' in the grounds of their home, Trumpeter's House (formerly Richmond Palace).
With the huge success of the latest film, Skyfall and filming to begin on the next instalment in 2014, the James Bond franchise has been firmly embedded into the nation's hearts and James Bond himself is widely recognised as the
quintessential British hero. On 21st June 2014, 'James Bond' will be coming to Richmond on what is set to be a very special evening.
The evening's entertainment has been created by actor Richard Clifford and guests will enjoy a themed reception, fabulous dinner and entertainment followed by dancing to bring the evening to a close.
The evening will benefit React - a small national children's charity based in Kew, who provide essential support and equipment to terminally ill children and their families. Run by a small team of just 7 members of staff, the charity relies heavily on the generosity of the local community to ensure that they can give a positive response to those families desperate for their support as they care for their terminally ill child at home.
Tickets cost £125 per person to attend and tables of 10 can be purchased. To purchase tickets, please contact react@reactcharity.org
April 22, 2014