Sunday 28th November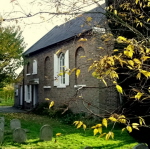 On the 28th of November from 2.30PM a group of local business people will hold a Christmas market at the Brentford & Isleworth Quaker meeting house. They look forward to welcoming many local people to the event.

Mrs Charlotte Oliver, local mum and event organiser said "Isleworth has such a strong community and this event gives us a chance to buy from local traders in plenty of time for Christmas - it's so much friendlier than big shopping centres."

This is the first time a Christmas market has been held at this venue. The organisers are counting on local support to make it an event that will continue year after year.

Peter Oliver, Isleworth based Phoenix Cards trader said "It will give local families the chance to be prepared and get some presents wrapped early. After they have bought the wonderful gifts on offer, they can come to my stall for: gift wrapping, tags, ribbons, boxes and bags."

Stalls on the day will include: Cake stall, homemade cushions, Phoenix cards, Pampered Chef, Usbourne Books, Mini-IQ, refreshments, face-painting, children's craft activities..... and so much more.

Christmas Market.
Brentford & Isleworth Quaker meeting House.
Quaker Lane.
London Road
Isleworth
TW7 5AZ
28th November
From 2.30PM onwards.
Brentford and Isleworth Quakers, Quakers Lane, London Road, Isleworth, up the side of the Green School,

Ring 8568 6338, email clerk@brentfordandisleworthquakers.org.uk or visit www.brentfordandisleworthquakers.org.uk
November 16, 2010