New exhibition showing Capital Interchange Way Proposal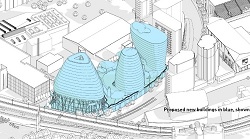 Picture of Capital Interchange Way from previous exhibition in Oct 2015

You are invited to a second public exhibition for the land at Capital Interchange Way in Brentford, designed by Professor Will Alsop OBE, founding director of aLL design.
Some of you may have attended the first exhibition last October of the proposals for a mixed use scheme including 350 new homes, business pods, a car showroom, raised park and a new bus depot.

A planning application is expected to be submitted in August.

The exhibition will be at the London Museum of Water and Steam, Green Dragon Lane, Brentford TW8 0EN from 4pm to 8pm on Tuesday 5 July 2016. Further information will also be available on the website at www.CIWConsultation.com after the exhibition. You can contact the team on 0800 458 6976 or at CIWConsultation@yourshout.org
According to All Design "The requirement for the bus depot was of primary importance and led the team to design a mixed-use development that includes recreational facilities and a park; thus creating both a transport and community hub. Furthermore we aim to establish an exemplar of environmental engineering, by re-using energy to supply the needs of people living and working locally.
"Our ethos is 'to make life better' and this project is an exceptional opportunity to put that into practice. We are looking forward to working closely with Hounslow Council and the local community to realise this ambition".
June 27, 2016