Elaine Samuels hosts an evening for local performers
The Open Mic night happens at O'Brien's pub, London Rd and is a fun, friendly chance for would be local performers to sing and
play instruments while plugged into the pub's PA system. There is a lot of joining in, which goes on, with people coming up to do backing
singing and others, like the fabulous "Jimmy" on the bass, who jam along, where the performers want them to - so it is great fun!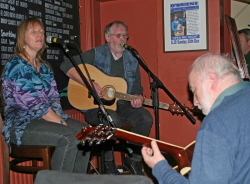 Elaine Samuels (above with Dave and Ian) hosts the evening. She is a singer / song-writer / guitarist with a long track record of performing, having played on TV, radio and at prestigious festivals and clubs like Glastonbury and Guildford festivals and the famous Cavern Club in Liverpool (you can find out more about me at www.elainesamuels.co.uk).

The Open Mic night has just become a regular, monthly feature with the next night being on Sunday, January 31st, 8.30pm.
January 10, 2010