Discover the world of Mechanical Music and be entertained by the Mighty Wurlitzer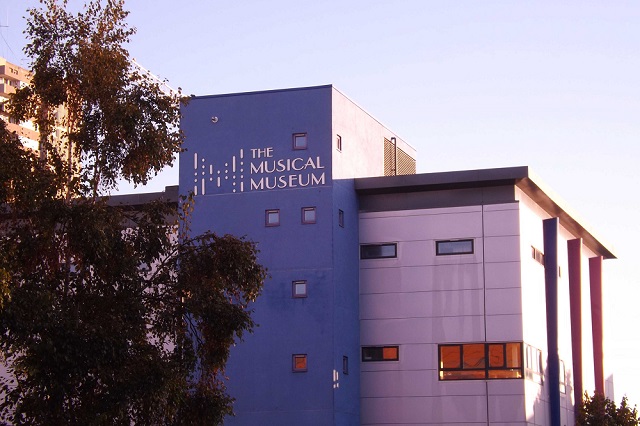 Come and join the events at The Musical Museum on our 2018 Open Day Saturday 28 July 10.30am – 16.30pm and help us celebrate 10 years of being in the current building. You can explore the museum and find out how mechanical musical instruments work and sound through mini-guided tours of the collection.
Be amazed by the Mighty Wurlitzer Experience featuring Chris Barber, the museum's resident organist and Director of Music. Find out a little about the history of the instrument and see a short Silent film with Wurlitzer accompaniment. Chris will also play a selection of music from stage and screen together with tracks from his recent CDs to the back-drop of images projected on to the big screen in the concert hall.

Street instruments will be played on the lawn and you can enjoy a cold drink or ice cream at tables outside or in the River View café. There is a small exhibition outlining the move from the nearby St. George's Church and highlights of ten years in the present site. Children's activities include an art table and a Children's gallery trail.
This is a day for the local community to come and enjoy one of the fabulous heritage attractions in the area. Admission is free to all. As The Musical Museum is an unfunded charity, donations are most welcome.


Opening hours
The Museum is open on Tuesday, Friday, Saturday, Sunday & Bank Holiday Mondays from 10:30am to 5pm, last entry is at 4pm.
Tours with live demonstrations of self playing instruments and the Mighty Wurlitzer take place at 11am, 1pm & 3pm.
The Museum is open on any day for groups consisting of 20 people or more. Please contact the museum for further details.
Admission:
Standard entry: £11.00
Concessions: £9.00
Children (5 to 16): £5.00
Family ticket (2 adults plus up to 3 children) £25.00
50% off for residents of the London Borough of Hounslow
The museum, concert hall & tea room are available for hire for parties, special events and corporate functions. Discounted rates apply to community & charity hires.
July 13, 2018