Reminiscences of Brentford FC - A Questor's Roadshow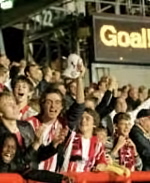 Where: Paul Robeson Theatre

When: Wednesday, 8th February

2.30pm - 4.00pm


'Win, Lose or Draw' tells the collected stories of Brentford Football club's fans over the years. You don't have to be a football fan to enjoy this Reminiscence Roadshow – there's something for everyone in this celebration of the fans' commitment and enthusiasm
…win, lose or draw!

This show is based on recorded interviews with Brentford fans in the collections at
Gunnersbury Park Museum.

Admission: £1.00 (includes refreshments). Payment to be made at time of booking.

January 20, 2012