Brentford Library Unplugged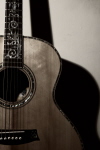 BRENTFORD LIBRARY UNPLUGGED!
An evening of Music and Poetry
Featuring
Nick Tann
"The most obvious selling points of his music are a wonderfully expressive and technically wide vocal range and the ability to wring a playing style out of his twelve string guitar that sits somewhere beyond the merely rhythmic and fleshed out with delicate intricacies and atmospheric pauses that he works into the music. The devil, as they say, is in the detail and it is Nick's understanding of this that raises his music above the competition."
plus Special Guests
The Carnegie Bees!
Light refreshments and drinks provided
Where: Brentford Library
When: 14th November 2011 7.30pm – 10.30pm
Price: £2.00
---

Tickets available from Brentford Library.
Please ask Library staff for more details.
For opening hours and addressess of Hounslow libraries, please see Hounslow Libraries
Brentford Library is on Boston Manor Road at the junction with Windmill Road, TW8 8DW.
Tel: 020 8560 8801
Opening hours:
Monday 9.30am - 8.00pm, Tuesday 9.30am - 5.30pm, Wednesday Closed, Thursday 9.30am - 8.00pm, Friday Closed, Saturday 9.30am - 5.30pm, Sunday Closed.
October 31, 2011