Hounslow Police Support London Week of Peace
London Week of Peace gets underway on 20 September, with a seven day series of events to promote unity and the fostering of peace and greater cohesion within and between the communities of London.
Hounslow Police are supporting the campaign, now in its eighth year, which is organised by a partnership of statutory and voluntary bodies led by the Peace Alliance, to spread the message that everyone can play their part in building a more cohesive, tolerant and peaceful society.
* Food & Drink Stalls * Scouts * Bouncy Castles * Face Painting * Community Groups * Music Stalls * Army Cadets * The Craft Studio * Ice Cream * Dance Groups
Hounslow Police are organising a Community Fun Day in Lampton Park, Hounslow on 26th September 2009 from 11am - 5pm, promoting community safety with stallholders from emergency services and other partnership agencies, bouncy castles, food and drink, face painting and a community It's a knockout competition involving 24 teams from a cross section of the community across the borough. Everyone is invited to come and enjoy the day.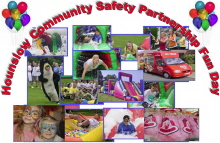 September 23, 2009