Support our local artists' exhibition and shopping opportunity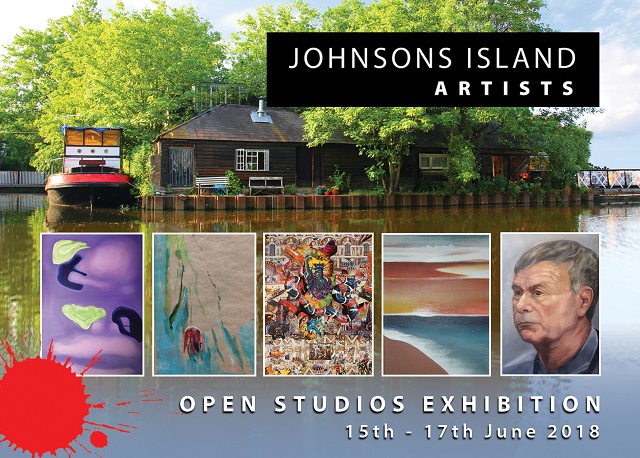 The magical artists' community of Johnson's Island in Brentford is once again opening its gates to the public this summer.
From 6-9pm on Friday June 15th and from 11am-6pm on Saturday and Sunday of the same weekend, it is possible to visit the painters, printmakers, sculptors and collage artists whose studios are clustered on the island.
Johnson's Island has a unique setting on the Grand Union Canal, between Kew Gardens and Syon Park in Brentford. Once you cross the footbridge onto the old lock-keeper's island, you cannot fail to be charmed by the haphazard arrangement of wooden buildings which make up the artist's colony – surrounded by house boats, wildlife and the lapping waters of the canal.
Enjoy a warm welcome and a drink under the twinkling fairy lights on Friday's opening night, while you browse the artworks, which vary from greetings cards and prints, through to one-off sculptures, 3-D paintings, hats, guitars, collages, oil paintings and more. The studios will remain open all weekend, offering a fascinating insight into the lives and work of the artists, their methods and inspiration.
People are always surprised to find this treasure trove of talent hidden away only a few steps from Brentford High Street. "I've lived in Brentford for 40 years and I've never been here before" is often heard over the weekend. We love welcoming visitors to our studios and will have an array of items for sale, or commission, so people can find something special to take home with them.
Dates: Friday June 15th 6pm to 9pm - preview
Saturday and Sunday June 16th & 17th 11am to 6pm

Admission: FREE
Access is easy by bus or rail.
Johnsons Island Artists, Johnsons Island (opposite The Brewery Tap), Catherine Wheel Road,Brentford, TW8 8BD
For more information: www.johnsonsislandartists.com

/JiArtists/

@JiArtists email info@johnsonsislandartists.com or 07917 038 888
May 16, 2018