Solo exhibition by Brentford artist Sam Dodson
Sam Dodson, is an artist and former musician (Loop Guru, Transmitters). His art includes collage in varying forms, intervention and experiments in abstract painting.
This is his third solo exhibition this year. He intends to show a wide variety of his work, including his special technique for painting on glass, involving a unique blend of oil paint to create what he calls "an alchemical reaction"
"My process varies from moment to moment. I never really want to repeat myself, I'll do a series of works on an idea then I'll move on to the next. I use oils, spray paint, acrylic, emulsion, gloss paint, enamel, graphite, biro, felt tip, material, net curtains, dust sheets, glue, a lot of glue. You name it everything is allowed. palette knife, brushes, scrapers, water spray, dribbling paint. It's all an experiment! - everything is permissible! I want to question everything with my art. delve into the mystery."
The exhibition at The Brentford Gallery, Johnsons Island runs from Friday 23rd (6 till 9 - private view) Saturday and Sunday 11 till 6pm. All welcome.
The exhibition also extends to the Brewery Tap.
Admission: FREE
There is plenty of parking and access is easy by bus or rail.
Johnsons Island Artists, Johnsons Island (opposite The Brewery Tap), Catherine Wheel Road,Brentford, TW8 8BD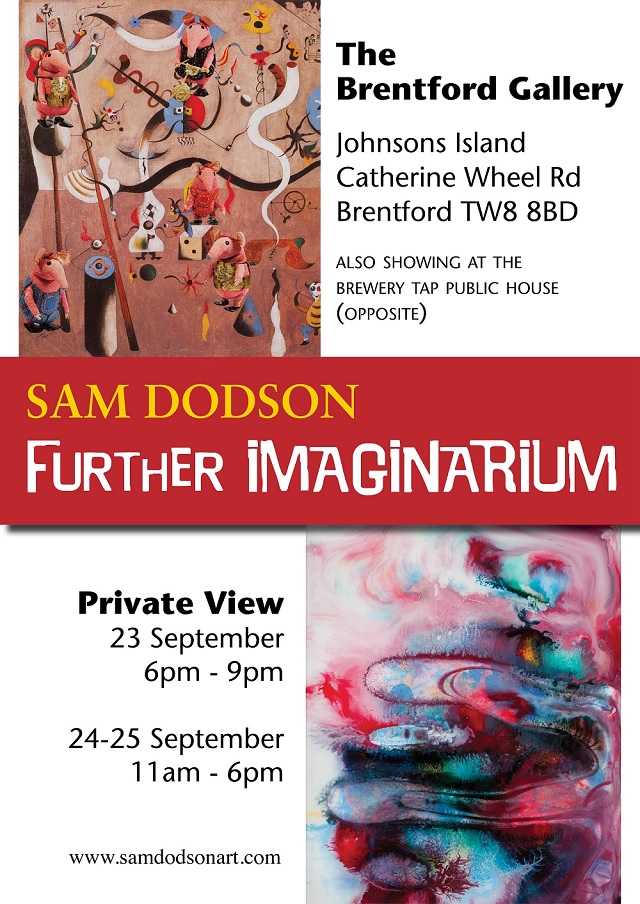 September 15, 2016