Art Exhibition "Evidence of Things Unseen" is Sam Dodson's first solo exhibition at Johnsons Island/
This is Sam's eighth exhibition in 7 months.

Come and share a glass of wine at the private view on Friday 8th of May between 6 and 10 in the evening,. The exhibition continues Sat 9th Sun 10th between 10 - 6pm.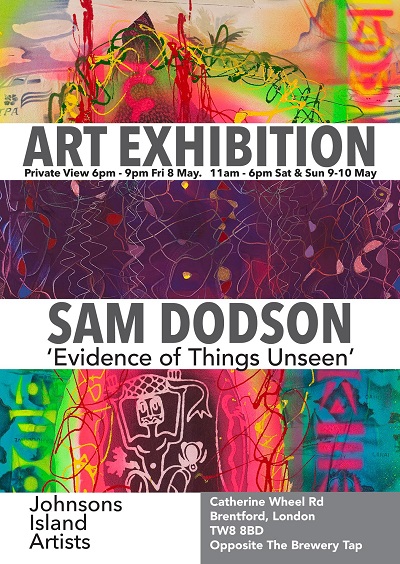 Sam Dodson, artist and musician, played in many bands and formed the punk group the Transmitters in 1977, and later formed the band Loop Guru. He went on to release many albums played seven John Peels sessions and toured the world (over fifty shows in the USA, including the Filmore)

Inspired by many artists, and many of the smaller galleries around the globe he has started a serious outpouring of what he calls Arkitextural Studies, abstracted images from imagined landscapes. Never happy to stand still he continues to develop and find new techniques and forms. Delving now into what he calls Bright Field Paintings. To take the beholder to a place that is half way between dreams and reality.

"My process varies from moment to moment. I never really want to repeat myself, I'll do a series of works on an idea then I'll move on to the next. I use oils, spray paint, acrylic, emulsion, gloss paint, enamel, graphite, biro, felt tip, material, net curtains, dust sheets, glue, a lot of glue. You name it everything is allowed. palette knife, brushes, scrapers, water spray, dribbling paint. It's all an experiment! - everything is permissible! I want to question everything with my art. delve into the mystery."
"Exhibitions are a major source of inspiration and ideas always bubble up after a good one! But inspiration also comes from just looking around me - a crack in a door, decay, rust, finding things in skips and or a walk on beach and finding driftwood. Art is all around me. When I paint sometimes my ideas evolve in a way I had not expected, it's like allowing things to happen like alchemy. Art is not born out of pain it's born out of experiencing things, and through that feeding the imagination. It's the imagination that seems important to me." Sam is a member of Johnsons Island artists.
http://www.samdodsonart.com