Weekend for Christmas Shopping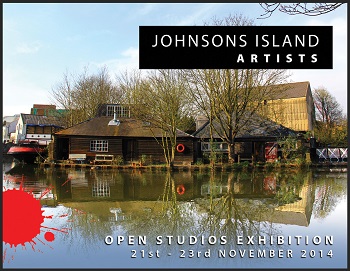 Come and discover the creative community on Johnsons Island in its unique setting on the Grand Union Canal, between Kew Gardens and Syon Park in West London. An eclectic mix of 16 painters, printmakers, sculptors, makers and ceramic artists will reveal their inner creative sanctums, opening the doors to their studios and showing work in the main gallery.
This is an opportunity to buy or commission unique original artworks directly from the artists in their working environment and to enjoy the wildlife that helps inspire their work. Newcomers may be surprised to discover the quality and variety of creative endeavour hidden from the bustle of the High Street in a serene rustic setting by the canal.
Expect a warm welcome to combat the November chill, a festive glass of wine and a feast for the eyes. Chestnuts will be roasting on an open fire, lanterns and fairy lights will brighten the trees. A musical highlight is happening on Sunday - musician Sheila Moylan will be in the Gallery from 2pm to 3pm singing to her own Irish Harp accompaniment.
Friendly local pub The Brewery Tap will host a barbecue across the footbridge from the island and a selection of the artists' work will also be on view in the pub.
Painting, Drawing, Sculpture, Mosaics, Photography, Mixed Media, Papier Mâché, Jewellery, Garden Sculpture, Cards, Prints, Ceramics

As well as the art on display there will be a barbecue hosted by the local pub and live music on the Sunday.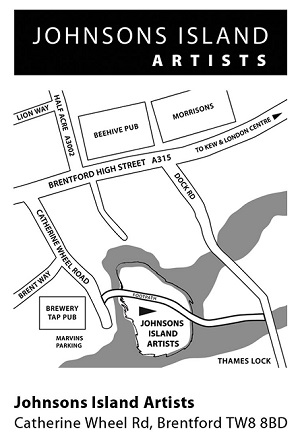 Friday November 21st 6pm to 9pm - preview
Saturday and Sunday November 22nd-23rd 11am to 6pm
Admission FREE
For more information: www.johnsonsislandartists.com
email: info@johnsonsislandartists.com
Johnson's Island is home to a colony of artists and craftspeople. It is situated beside the first lock linking the Thames to the Grand Union Canal with narrow boats and barges moored peacefully nearby.
The island is reached by footbridge from the Brewery Tap in Catherine Wheel Rd, a famous Brentford musical pub. Access is easy by bus and parking is ample.
November 21, 2014