Artists' colony by Thames Lock opens doors
Come and discover Johnsons Island and its friendly artists in our unique setting on the Grand Union Canal. Expect a warm welcome, a glass of Pimms and the opportunity to buy or commission work directly from our talented artists.
The Brewery Tap will host a barbeque across the footbridge from the island all weekend.

Johnson's Island is home to a flourishing colony of artists and craftspeople. It is situated beside the first lock linking the Thames to the Grand Union Canal with narrow boats and barges moored peacefully nearby. Visitors can witness the wildlife and tranquillity that inspires the artists. Much the same view was revealed to Samuel Pepys as he sailed into Town Wharf for illicit assignations with Brentford ladies! The
island is reached by footbridge from the Brewery Tap in Catherine Wheel Rd, a famous Brentford musical pub.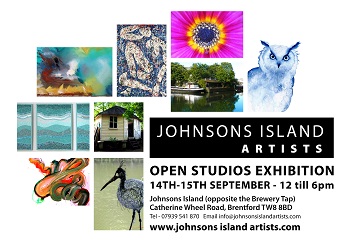 12 established artists on Johnsons Island
Brentford Gallery, Catherine Wheel Rd Brentford TW8 8BD

Friday 13 September 6.30pm to 9pm
Saturday 14 September 12am to 6pm
Sunday 15 September 12am to 6pm
free
Barbeque Saturday and Sunday
For more information call 07939 541 870
www.johnsonsislandartists.com or info@jojnsonislandartists.com
Painting - Sculpture - Mosaics - Photography - Mixed Media - Wire Drawing Jewellery - Garden Sculpture - Cards - Prints - Handmade - Gifts


September 10, 2013