Local Brentford artists have local exhibition
Johnson's Island is a collection of small weatherboarded buildings bordering the Grand Union Canal at Brentford Lock. Once abandoned and derelict, the artist and globe maker James Bissell-Thomas discovered and restored it with style, love and determination; it is now a thriving artists colony with a small but perfectly formed gallery.
This is the venue for 'The Little Picture Show' featuring small works by local artists, Geraldine Cox, John James and Steven Devlin.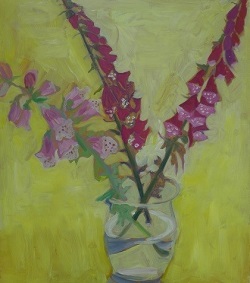 Bee Hotel, oil on board, 40 x 30 cm, Geraldine Cox

Geraldine Cox is a multiple award winning artist with a residency at Imperial College London. She makes work about nature, discovery and how we can express what we know in new ways. For the Little Picture Show, she will be exhibiting oil portraits of flowers picked over the summer.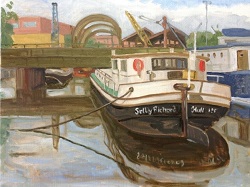 Selby Richard Afloat, oil on canvas, 30 x 40cm, John James
John James paints mainly urban and industrial landscapes. He has exhibited all over the world including representing Britain at the Paris Bienniale.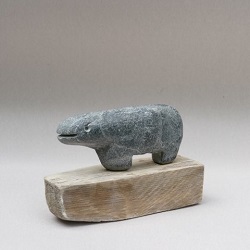 Bear, basalt on wood, 16 x 12 cm, Stephen Devlin
Stephen Devlin is from a family of artists in Belfast. He makes stone carvings and paintings. He trained at the Chicago Institute of Fine Art and his most recent exhibition was with the Lamorna Group in Cornwall.
Open Friday, Saturday and Sunday, 27-29th September, 12 – 6pm.
www.littlepictureshow.com

Email: mail@littlepictureshow.com
Contact: Geraldine Cox 07881 511 826.

August 20, 2013