Give kayaking a try, joing the BBQ and find out what's happening with Commerce Road

ISIS are pleased to announce the arrival of Edge Progressive Paddling in partnership with Brentford FC Community Sports Trust, your local canoe club. We invite everyone to come and try out canoeing and celebrate the launch of a new canoe base at Brentford Lock West and find out what else is planned for temporary uses on the site.
Meet at Grounds Cafe & Wine Bar to try some canoeing. Everyone is welcome - just bring along a towel, shorts and old clothes/shoes you don't mind getting wet.
Have a go at canoeing or canoe polo
Talk to Brentford Boating Arch and Edge Paddling about all canoeing opportunities coming up
Visit the new base which is just one generous step of the canalside regeneration project by ISIS
Bring all those friends and family members who've been thinking about canoeing but haven't got round to it yet.

Hot showers, changing facilities, food and canoeing all free of charge.
See an update of the proposals for Brentford Lock West (Commerce Rd. area) and talk to the ISIS team.
Meet and volunteer to help grow local produce with Cultivate London another project which is shortly to be housed on the site.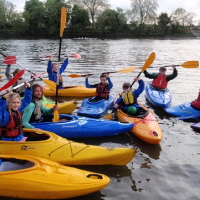 Come along and enjoy a BBQ at Grounds Cafe & Wine Bar, Brentford Lock on Wed. 14th July 2010 between 4 and 8pm

For more information please have a look at their website at Brentford Lock West or contact
rachel.ollerenshaw@isis.gb.com tel: 0161 276 2071


July 13, 2010