"What I did at School Today" at St Faith's Church Hall
St George's Primary School is on its knees. The scheming head is only concerned with sucking up to anyone who'll enhance his CV, and the all-female staff are either too disgruntled, too lazy or too naive to make a difference. In walks a handsome new supply teacher and everybody falls over to win his attention, including an old flame from his university days. What could possibly happen in a school staffroom other than meetings, marking and making coffee?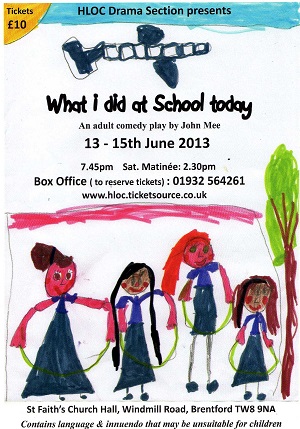 "What i did at School today" by John Mee is at St Faith's Church Hall between 13th to 15th June at 7.45pm, with a Saturday matinee at 2.30pm. It is an adult comedy play with content which may not be suitable for children.
Faith's Church Hall, Brentford TW8 9NA

Tickets £10 (includes light refreshments)
Box Office 01932 564261 or www.hloc.ticketsource.co.uk
June 4, 2013