Shop window competition proves hit with heritage buffs
Related Links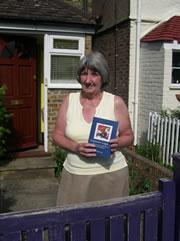 Jean Harrison outside her house in Church Walk, Brentford with her prize of the book " Layton's Legacy"



Thomas Layton
Participate
Sign up for our free newsletter

Comment on this story on the
The recent exhibition entitled History in the High Street, was held in 20 shop windows along Brentford High Street. Visitors were asked to collect a quiz form, study the exhibition panels carefully and respond to the quiz.
Receiving her prize Jean Harrison said: "I thought the exhibition and quiz were terrific ideas. I hope the shop keepers will follow on and host more exhibitions about Brentford's history. It really got people talking. As for me, I started thinking too. My family is well established in the area – in Chiswick and here in Brentford. My father had a farm in Syon Lane. I had a Great Aunt Henrietta, my Grandfather Harrison's sister. I notice Layton had a housekeeper named Harriet Harrison. Could they have been one and the same? Like Layton my Great Aunt liked stuffed animals!"
Competition organiser, Hazel Dakers said, "We were delighted to receive Jean Harrison's near perfect entry. Clearly Jean is someone with both an interest and pride in Brentford's history. Her prize, a pre-publication copy of the new booklet Layton's Legacy: Thomas Layton of Brentford and his collection by Mike Galer is well deserved."
Layton was a Victorian business man, councillor and collector, Thomas Layton who left his massive collection to the people of Brentford. He was both a civic dignitary and antiquarian. The quiz covered not only the extent of the collection but also a good deal of the history of Brentford.
Looking around Brentford now, we can see some of the buildings whose construction he led – the old swimming baths, the public library and the old fire station. Layton's house was on the large site now awaiting redevelopment adjacent to Kew Bridge. Nowell Parr was frequently the architect of the buildings with which Layton was connected.
Whilst Layton's coin collection is cared for by the British Museum and his archaeological finds are mainly in the Museum of London, 8000 of his books and 5000 prints, maps, posters and manuscripts are held by the Local Studies Section of Hounslow Public Library. Gunnersbury Park Museum holds some artefacts.
The Thomas Layton Trust has been supported in a two and a half year promotional project by the Heritage Lottery Fund. This has included three exhibitions, development of resources for schools, a website which is currently being enhanced and expanded www.thomaslayton.org.uk , as well as the publication of the new booklet.
The Layton Trust is launching the new publication jointly with Brentford and Chiswick Local History Society, Layton's Legacy: Thomas Layton of Brentford and his Collection by Mike Galer. The public will be able to purchase modestly priced copies in Hounslow's libraries, the shop at the Treaty Centre Library and through Brentford and Chiswick Local History Society.
May 25, 2007