As students perform "We Will Rock You" for two nights only!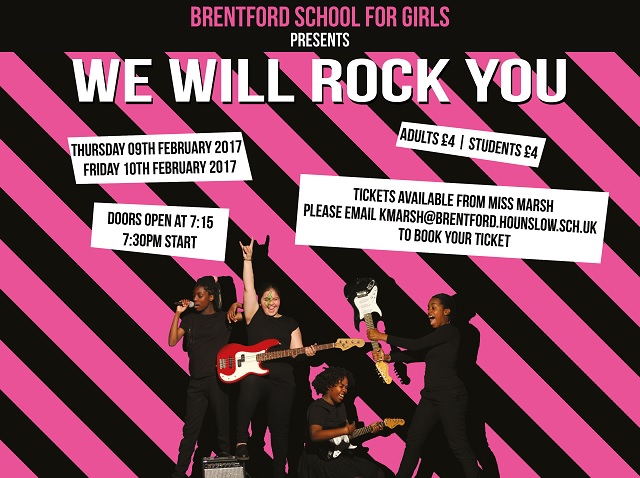 Everywhere, the kids watch the same movies, wear the same fashions and think the same thoughts. It's a safe, happy, Ga Ga world. Unless you're a rebel. Unless you want to Rock. On iPlanet all musical instruments are banned. The Company Computers generate tunes and everybody downloads them. It is an age of Boy Bands and of Girl Bands. Of Girl Bands with a couple of boys in them that look like girls anyway. Nothing is left to chance, hits are scheduled years in advance.
But Resistance is growing. Underneath the gleaming cities, down in the lower depths live the Bohemians. Rebels who believe that there was once a Golden Age when the kids formed their own bands and wrote their own songs. They call that time 'The Rhapsody'
Legend persists that somewhere on iPlanet instruments still exist. Somewhere, the mighty axe of a great guitar god lies buried deep in rock. The Bohemians need a hero to find this axe and draw it from the stone.
But the Ga Ga Cops are also looking for Galileo and if they get him first they will surely drag him before the Killer Queen and consign him to Oblivion across the Seven Seas of Rhyme.
Brentford School for Girls proudly presents 'We Will Rock You' for two nights on 09th & 10th February. The performances will open your ears to a non-stop Queen catalogue! Sixty five students are involved in this year's production, and have been rehearsing twice a week since September but with such efforts come greatness and glory. The production is directed by Ms Marsh (Head of Drama) and Musical director is Miss Shute (Head of Music). The leads roles are Sophie Muringu, Stephanie Muringu, Chrishanti Brown and Elnaz Qadri. Tickets are £4 and available from Miss Marsh via kmarsh@brentford.hounslow.sch.uk

If you would like to get in touch with Brentford School for Girls, please contact Liz Gers, Community Co-ordinator at LGers@brentford.hounslow.sch.uk
Brentford School for Girls, 5 Boston Manor Road, Brentford, TW8 0PG
February 2, 2017