Brentford student's film Premier

BRENTFORD FILM PREMIER (better than the Oscars – because you get to see the films!) will take place on Wednesday the 15th of April at the Brentford School Theatre.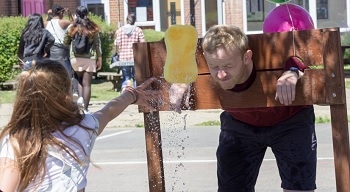 Following on from another outstanding year for the school's Media department (50% of GCSE students achieving A* or A grades and 67% of A level students securing A*-B grades) they are showing movie trailers and opening sequences from feature films made by this year's crop of GCSE and A level students.
Ranging across a number of genres including horror, thriller, fantasy, comedy and comingMarch 27, 2015mazingly talented Melina Namdar, it will prove a varied and exciting evening showcasing the exceptional talents of these young creative.
Brentford School for Girls Media department has for a number of years been run by Tim Holloway, a BAFTA nominated ex-producer and director of shows such as Casualty, The Bill and Byker Grove to name but three and it has become a hub for school film making talent in the area with many students going on to work study Media and Film at university, secure grants from national bodies for independent film projects and work successfully in an industry which while highly competitive remains one of Britain's most lauded.
On the evening of the 15th April there will be some awards for outstanding work given by a visiting film maker. Tickets are very limited for this red carpet event.
Wednesday 15th April, 6.30-8pm with drinks and canapes from 6.30pm
For more information please contact Liz Gers (Community Co-ordinator) at lgers@brentford.hounslow.sch.uk
March 27, 2015