School reunion sees launch of Friends of Brentford School for Girls

On Friday 15th November Brentford School for Girls are holding a school reunion.
All ex-students and teachers are being invited to join us for this memorable event. The reunion will take place in the Hall between 7pm and 10pm.
We are looking forward to welcoming you all back to the school and for you to share your memories with us and catch up with old friends you may not have seen for some time.
The reunion will also see the launch of the 'Friends of Brentford School for Girls', for ex-students who are interested, able and willing to get involved in the life of the school.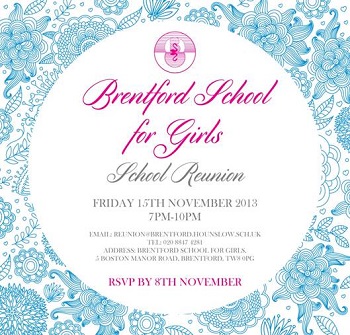 If you have any photographs that you are willing to share with us please send them to school as we will be creating a display for you all to enjoy. Please mark these with your name so as that they may be returned.
Please RSVP by email (by 8th November) to reunion@brentford.houslow.sch.uk or by telephoning the school on 020 8847 4281 or by post, Brentford School for Girls, 5 Boston Manor Road, Brentford, Middlesex TW8 0PG.
Please note if you have friends that are going to be travelling from some distance the Holiday Inn in Brentford is offering a special rate of £79 per room with breakfast (based on two people sharing). To take up this offer please call 020 8232 2004, making sure you speak to the in-house reservation team. This offer is available until Friday 25th October.
We are also delighted to tell you that the Brentford hairdressers, 'Hair & Beauty by the Lock' has put together different packages for the reunion. Please call 0208 758 2325 to make your reservation, alternatively their website address is www.hair-and-beauty-by-the-lock.co.uk, where details of the reunion offers are listed.
If you are not an ex-Brentford student please do pass on the invitation to anyone you know who was at the school as we are keen to see as many ex-students as possible attend the event.
October 22, 2013