Tells the story of Brentford's Kew Eco Village
Grasp the Nettle follows the exploits of a ragtag band of activists in London as they struggle against corporations, government, police – and themselves – in an effort to create alternative communities outside consumer society. Filmmaker Dean Puckett went to live among the eclectic inhabitants of an eco-village in West London, who then move to the heart of London, occupying Parliament Square. It is an epic, inspiring and at times harrowing journey of discovery - following the homeless, the visionaries and eccentrics against a backdrop of economic and ecological crisis.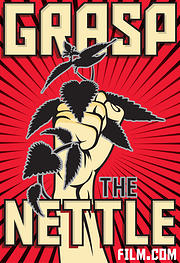 The Crisis of Cilivilisation team's new film Grasp The Nettle will be having its first public screening and World Premiere at London's Open City Doc Fest on June 21st 2013 @ 6.30pm, Torrington Square WC1.
June 10, 2013